Find the right partner for you

3D Service GmbH
3D Service GmbH and 3D Service GmbH NRW are an accredited manufacturer-independent service provider in coordinate metrology which offer: Conversion to current technology
Software Training
Service and maintenance contracts
Calibration
Relocate your measuring device
Repair
Sale of accessories
Special solutions
Contract Measurement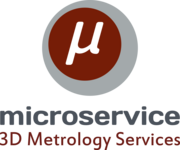 Microservice S.rl.
Microservice is a 3D metrology services company based in Italy. Its activities include: CMM calibration and retrofit, metrological laboratory with contact, visual, x-ray machines, on-site measuring with portable devices, pre-owned instruments. Together with its key partners AAT Inc. and Pantec Metrology, Microservice is co-developing and bringing to end users the leading-edge technology for CMMs: from the HW with the EAGLE family of controllers, to the world renowned CAD based measuring software, CAPPS DMIS. Microservice SRL is an ISO/IEC 17025:2005 accredited Calibration lab with Accredia (LAT N° 206) and accredited ISO 9001:2008 with IQNet-CISQ/RINA.

Axis Metrology, Inc.
Axis Metrology is a full service calibration and repair organization specializing in all Hexagon brand (Brown & Sharpe, DEA, and Leitz) and I.M.S. brand CMMs. Axis Metrology offers nationwide service coverage and is associated with a Southern California company for west coast customers. Axis Metrology, Inc. is an ISO/IEC 17025:2005 accredited Calibration lab with the A2LA (Certificate Number 1767.01) and accredited ISO 9001 with Bureau Veritas Certification.

Soporte Metrology
Soporte Metrology is a 20 years experienced and ISO/IEC 17025 accredited company that provides technical support in Dimensional Measuring Instruments as CMMs, CNC and non contact technologies (AACMM, Tracker Laser).

We also offer:
Consulting (sizing, evaluation, selection and implementation of solutions)
Applications (support, programming, training, development and virtualizing of software)
Parts dimensional measurement
Spares and calibration for Dimensional Measuring Instruments
Our technicians have extensive practice in the areas of dimensional metrology and their applications for manufacturing throughout Canada, USA, Mexico and Central America.